News
Dessert Wednesday: Super-Simple Cocoa Yummies, 3 Portions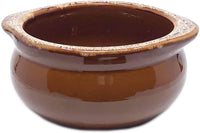 Cook some desserts is one of the best ways to enjoy the time during the quarantine!
It will only take about 30 minutes to cook these pretties.
You will need:
1. 6 egg yolks
2. 4 tablespoons sugar
3. 4 tablespoons cocoa powder
4. 4 ounces butter
5. Oven-proof bowls (as you can see on the picture)
Steps:
1. Preheat oven to 300°F (150°C).
2. Melt the butter in a microwave or on the water bath, and leave it to cool.
3. Whisk egg yolks and sugar until thick and lemon-colored.
4. Combine this mixture with melted butter, mix it.
5. Sift cocoa powder into the final mixture, whip it until it all comes together.
6. Fold your bowls with a cocoa mass.
7. Place the bowls into a baking dish. Pour very hot water into a baking dish to reach halfway up bowls. Carefully place the baking dish in the oven. Bake for 20 minutes.
8. Cool in a fridge for a half an hour and serve it on these beautiful bowls!