News
Frequently asked questions about palm leaf dinnerware #1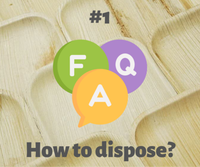 We are often asked about our palm leaf tableware. What, why, and how?
Thus, we've decided to start a new F.A.Q post series, where we will open many questions, trivial or not, regarding palm leaf dinnerware.

Q: How do I dispose of Palm Leaf dinnerware at home?
A: Since palm leaf plates are 100% biodegradable, they can be composted at the home composting system.

Q: What if I don't have one?
A: If you don't have a home composting system you can simply wet the dinnerware under hot water, break it up, and bury. It will naturally decompose in hummus in 5-7 weeks. It will provide the earth with nutrients and love. Palm leaf tableware can also be added directly to your garden ground.