News
Dessert Wednesday: Mini Chocolate Souffles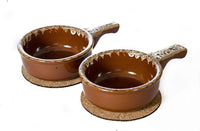 Extra tasty and super easy!
You will need:
1. 2 tablespoons softened butter
2. 3 ounces semisweet chocolate chips
3. 1/2 teaspoon vanilla extract
4. 2 big eggs
5. 2 tablespoons sugar
6. 1/4 teaspoon salt
Steps:
1. Preheat oven to 375°F (190°C)
2. Coat the insides of your oven-safe bowls with 1/2 tbsp butter. Fill the bowls' inside walls with sugar.
3. Bring large saucepan half-filled with water to a simmer. Put a medium saucepan inside this water bath, so that the medium saucepan doesn't touch the bottom of the large saucepan.
4. Fill the medium saucepan with the chocolate chips and remaining butter and melt the mixture completely.
5. Remove from heat and stir in vanilla extract and egg yolks, one at a time. Save the egg whites.
6. Combine egg whites, sugar and salt in a different bowl. Whisk the egg white mixture to stiff peaks consistency.
7. Fold the egg white mixture into the chocolate mixture. Spoon into the bowls, filling them 3/4 full.
8. Bake souffles about 15-20 minutes. Dust tops with powdered sugar.
You can cook and serve this dessert in our beautiful oven-safe bowls. They are just perfect for this one, or any other one-bowl oven dessert!