News
Chinese Takeout Box Centerpiece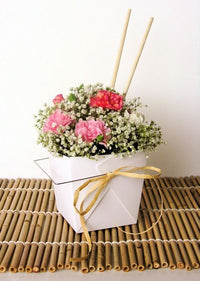 What to do while stuck inside due to a pandemic?
A creative centerpiece decoration, of course!
What would you need:
- Scissors
- Ribbon
- Takeout container
- Tape
- Small sturdy plastic bag
- Small flowers
How to craft:
1. Cut a piece of ribbon about 15 inches long and wrap it around the inside of the container, tie a nice little bell around the opening of a takeout box
2. Take a plastic bag, open it and place it inside the container.
3. Fill that bag up with some water, about half-full. The weight of the water will keep the plastic bag steady.
4. Cut and arrange some flowers. Trim the stems to about the size of the container and set them inside.
And that's it, your centerpiece is done.
Share some screenshots of your creations in the comment section!