News
Dessert Wednesday: Refreshing Lemon Mousse.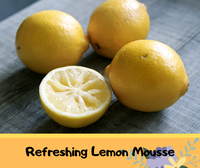 Very bright and very Spring flavor!
Recipe author: Chef Ina Garten
You will need:
- 3 large eggs
- Another 3 large eggs, separate the yolks from the whites
- 1 cup + 2 tbsp. Granulated sugar
- 2 tsp Grated lemon zest
- 0.5 tbsp. Freshly squeezed lemon juice (4 lemons)
- 1 tbsp. Fat cream
- 0.5 tbsp. High-quality lemon curd, room temperature
- Sweet whipped cream
- Sliced lemon, for decoration
Steps:
1. Beat 3 whole eggs, 3 yolks, 1 tbsp. sugar, lemon zest, lemon juice and a pinch of salt in a large heat-resistant bowl.
2. Place this bowl over a pot of boiling water and cook, stirring constantly for 10-12 minutes, until the mixture becomes thick as pudding.
3. Remove the bowl from the water bath and set aside for 15 minutes. Cover the bowl with the plastic film and put it in the refrigerator for 1-2 hours.
4. In a mixer, beat half of the egg whites with a pinch of salt at high speed. Add 2 tbsp. sugar and continue beating the whites until they become very thick and shiny.
5. Carefully stir beaten whites with a silicone spatula into the chilled lemon mixture.
6. Pour the cream into the mixer and beat at high speed. Then, carefully stir it into the lemon mixture.
7. Stir lemon curd into lemon mixture and place the whole mass into serving bowls.
8. Garnish with sweet whipped cream and lemon slices, cut into 4 pieces. Serve this mousse cold.