News
Perfect Holiday Dinner: How To? 4 Easy Tips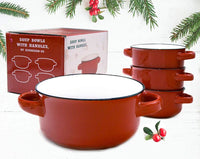 Is it hard to cook & serve the Holiday dinner? It's not, as long as you keep it calm and follow the plan:
1. Estimate the number of your guests. Better if you will note it and keep the note as a reminder. 📝
2. After finishing your guest list, think about the meals you want to cook. 🥘
If you are in doubt, just remember this one rule: the shorter the menu, the better the food. If you focus on fewer dishes, you'll have a great chance to execute them perfectly, without any hassle. So, again, note another list of the food you are going to make. 🥗✏️
3. Create a Holiday atmosphere - get yourself the opportunity to work on details, add some mystery fairy tale. The tableware is essential. Not only the way you decorate your meals, but it is also the dish itself. 🎉
Here, we offer you merry red bowls that would perfectly fit your hot Holiday soups and meals. Big and generous portions served in these bowls surely will have your guests surprised and happy! 😉
That's basically everything that you need to prepare the best Holiday dinner for you, your family and your friends. 😁
=================================
Have a great day and holidays ahead.
Ecodesign-US