News
How-To Choose Healthy Cereals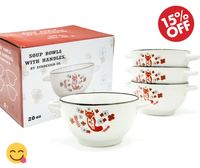 We all love cereals - for breakfast, for snacks, it's fast, easy and tasty.
So here are some lifehacks on how to choose them not only tasty but healthy and balanced:
1. The list of ingredients should include the "whole grain" or "whole wheat" line.
2. Examine "Nutrition facts". It is important to check the sugar, fiber, vitamins, minerals and ingredient list.
Tip: Don't get confused by these catchy "healthy" slogans on the front of the box.
3. Healthy cereals contain less than 5-8 grams of sugar per portion.
4. You also might want to look for cereals with 3-6 grams of fiber per portion.
5. Look for less than 4 grams of fat per serving and avoid any trans fat.
6. Vitamins are also important! It is great if your cereals contain calcium, vitamin D, folic acid, vitamin C, etc. The more vitamins -- the better, that's for sure!
7. Now, the last but not the least -- the bowl. Breakfast should bring satisfaction to your eyes. The bowls are an important piece of it. And we have them in our store! 
With a 15% discount. Besides, these bowls are also great for soup. Your family will love them!
A 15% promo-code CEREAL (Starts from 02.01 on 8 AM):