News
Arrange Your Holiday Meal with Fairytale!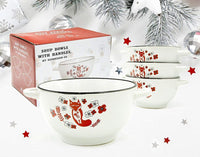 ☃️The atmosphere essence lay in what's "around", and what's "in front". And your guests would surely want to feel the Christmas around them.
> There are many ways to create this feeling:
🎄You may set the tree, decorate it with tinsel; put some candles or maybe evergreen foliage.
🍽️ And the tableware you'll use for your Christmas dinner is a very important part of this. In fact, it is essential.
🍲 It is not only about the garnish or other food decorations, but it is also the dish itself.
🦊 We inspire you to add the note of Christmas fantasy with these folk designed bowls.
🤍 Everyone will love it! 💙
Buy it from our Amazon store NOW with a 15% discount using this promo-code 158ZSH3N
https://www.amazon.com/dp/B07LF3Z2XD
Or just simply follow this link
https://www.amazon.com/gp/mpc/ACC3IPWTE24HE