News
🏮Bring Yourself Some Good Luck!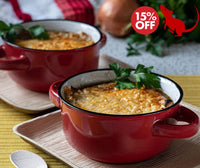 Did you know what red color means in China? 🐼
🔥 Red is the most popular color there 🔥
Red represents fire, and this fire warms your house with happiness, success and good fortune! 🍀
These beautiful fire-colored bowls will help you to warm yourself with a good portion of your favorite meal. 
15% discount-code celebrating the Chinese New Year 
15newyeareco