News
How to choose sustainable dinnerware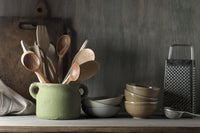 After 18 years of faithful service, it was time to retire my everyday dishes. I was down to six dinner plates (all chipped) four cereal bowls, seven sandwich plates (many of them chipped) and a stack of saucers that never got used. We had pulled out the plain white china plates that I had bought to supplement my grandmother's china just to have enough to eat on. When one of those smashed on the floor and broke, I knew it was time.
I did some research on "green," "eco-friendly" and "sustainable" dinnerware. I found some recycled glass dishes that didn't thrill me. I found lots of disposable dinnerware that's considered green. I even went to a few thrift stores to look for pre-owned dinnerware, but didn't find anything that fit my style.
I finally decided to do a little research on the dinnerware that I really I wanted, Homer Laughlin China Company's classic Fiesta dinnerware (also known as Fiestaware). My grandmother had Fiesta, and I always loved how she mixed and matched the colors. I also love how Fiesta is sold piece by piece so I can get exactly what I want (no saucers this time). I emailed the company to ask about their sustainability efforts. They sent me their green statement pledge.
To continue to provide a safe, reusable product free of harmful materials.There is no lead in the paint or glaze of Fiesta dinnerware.
To vigilantly pursue innovative ways to reduce our carbon footprint on the global landscape. HLC reroutes waste kiln heat to other processes. They blend their waste clay back into the formation process. The products are only made in the U.S.A. so they don't have to transport anything overseas.
To reduce or eliminate our resource consumption and recycle what we use.HLC has impressive conservation efforts for their packaging, wastewater, and ordering processes. They also send non-saleable dinnerware to a refinery that uses them as aggregate for tabletops and countertops.
Then I spent some time reading customer reviews. I know my grandmother's Fiesta dinnerware lasted decades, but that's no guarantee that the modern version will do the same. The 283 customers on Macys.com give it 5 stars. Amazon users give it 4 stars, and most of non-five star complaints are about items broken in shipping or colors not being as expected. The one word that kept popping out at me in many of the reviews was "durable." That is exactly what I need from my everyday dishes.
So I found information that satisfied me about the safety of the dishes, the sustainability efforts of the manufacturer, and the durability of the product. There was one last consideration. Price.
Full price, the standard dinner plate usually runs somewhere between $17 and $20, but the Internet makes it easy to search for sale prices. I went one even better than sale prices. I was up in the Poconos this weekend and took a little trip to Holley Ross Pottery in LaAnna, Pa. The store sells Fiesta seconds. I was able to get dinner plates for $4 a piece. Each one has some small defect, but they are hard to notice. In addition to dinner plates, I bought cereal bowls, lunch plates, and a couple of serving pieces — mixing the colors cobalt, ivory, scarlet and paprika.
Not every item I bought was a second, but I bought the seconds when I could find ones that were acceptable. There are still a few pieces that I'm going to have to purchase retail, and I'm researching the best prices. When all is bought, I don't expect to spend more than $300 for 16 dinner plates, 8 lunch plates, 8 bowls, and four serving pieces. If they last as long as my grandmother's lasted, it will be a fabulous investment.
When you need to make a major purchase (or even a minor purchase), it's a good idea to look past self-proclaimed green products. They are often fine, but many manufacturers that don't bang you over the head with the "greenness" of their products make long-lasting, environmentally safe products while employing sustainability efforts in their manufacturing process. It takes a little research, but it opens up your options.
Writer: ROBIN SHREEVES
https://www.mnn.com/food/healthy-eating/blogs/choosing-sustainable-dinnerware