News
Legends Of Onion Soup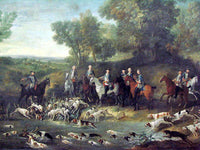 The onion soup, or soupe a l'oignon - is a French cuisine calling card. Like any other iconic dish, it has its curious history... Which could have started in Ancient Rome. There is an opinion, that the onion soup was invented to feed Romanian legionaries. It is cheap, fast and easy to make, gives energy and good for health. But why soup? Back then, Romanians thought that raw onions cause headaches.
There are another 2 stories.
One of then claims that King Louis XV of France was so captured by royal hunting, that he had to spend a night in a bothy. In a shack, there were only some onions, butter and Champagne. Not many options, really.
The alternate version described by Alexandre Dumas in his "Great Dictionary of Cuisine" tells us that Stanislas Leszczynski, Duke of Lorraine and father of the Queen Consort of France, stopped in a tavern in Chalon during one of his trips to Versaille, where he was visiting his daughter every year. He was served such a delicious onion soup that he did not want to continue the journey until he learned the recipe. The cook showed him the recipe by request, after which the king wrote everything down and brought the recipe to Louis XV of France.
Which one of three is your favorite?