News
Dessert Wednesday: Pot de Crème, 3 Portions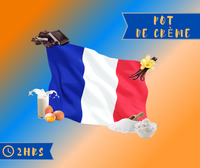 You will need:
1. 7 ounces finely chopped dark chocolate (~72% cocoa)
2. 1 1/2 cups heavy cream
3. 1 1/2 cups whole milk
4. 5 large egg yolks
5. 6 tbs granulated sugar
6. 2 tsp vanilla paste
Steps:
1. Preheat oven to 320°F (160°C);
2. Place the chocolate in a medium sized bowl.
3. Mix the cream with milk in a small saucepan, then bring to a boil over medium heat.
4. Pour the hot cream into the chocolate. Let it brew for 30 seconds to allow the chocolate to melt, then stir until smooth.
5. Beat the egg yolks with sugar and vanilla paste. Slowly pour the egg mixture into the chocolate, constantly whipping.
6. Sieve the cream into a bowl, then pour it into three 300 ml oven-proof bowls.
7. Place the bowls into a baking dish. Pour very hot water into a baking dish to reach halfway up bowls. Carefully place the baking dish in the oven. Bake for 30 minutes.
8. Cool in a fridge for 20 minutes then serve!